The more you understand about yourself, the more control you have over your life, mind, and emotions.
The EmotionMind Dynamic Therapy Programme is designed to reintroduce you to the most important person in your life: YOU. Through the programme, you'll learn how to practice self-nurturing, self-compassion, and self-care; you'll also get to the very root of your emotions, and discover how they impact your mindset.
After all, Self knowledge is a super power®. And shouldn't you know yourself better than anyone?
Emotion Mind Dynamic Programme
The Programme is open for enrolment.
To enrol click the "Enrol" button.
For existing members returning to continue to study,  click Login.
The programme is a roller coaster, the questions and Hayley are very positive and helpful. It digs deep to emotional parts you didn't even think you needed to. The dark times are hard and I didn't like them but Hayley was there. If she wasn't, I wouldn't have got through it.
Not over thinking, pick my battles, I am stronger.  Dealing with the past took a weight off my shoulders. Being able to trust someone and not feel judged. One of the best experiences and the only one that worked. I feel so clear now.
Less panic attacks and better coping mechanisms, It was a very positive experience. I felt at ease with Hayley and didn't feel silly telling her how I felt. I struggled writing my final letter as it all felt so real writing it down and seeing it in black and white but it did help.
EmotionMind Dynamic the programme
Over the course of six modules, we'll take you from overwhelmed to empowered. By processing your emotions in a healthy way, you'll learn how to use your past to understand your present, and create a future worth living; a future free from anxiety and depression.
Over three months, we'll work together on six key areas:
Behavioural patterns: You'll learn to use the EmotionMind Dynamic therapy model to identify damaging internal patterns and unhealthy coping mechanisms – allowing you to change your chosen behaviours in times of stress.
Emotional memories: You'll begin to understand how the negative emotional memories in your past sit at the root of anxiousness, stress and depression – allowing you to identify the cause of irrational thoughts and behaviours, process emotional memories, and make room for mental clarity.
Emotional impact: You'll get to the root of the emotions that have led to low self-esteem, unhealthy behaviours, and unhelpful decision-making patterns – allowing you to recognise your worth, set healthy boundaries, and make the best choices for YOU.
Expressing and sharing: You'll receive the emotional support you need to understand, interrupt and end your overwhelm – allowing you to live uninhibited. Unlike traditional therapy, I'll be open about my own journey – because I've been where you are now.
Acceptance and release: You'll repair your mental and emotional wellbeing by learning to accept, process and release negative emotions and memories – allowing you to build resilience, cope with life's ups and downs, and regain control.
Healthy habits: You'll end the course by understanding how to continue your journey of self-development – allowing you to maintain your wellbeing, put a stop to self-sabotage, and become the parent, partner and person you want to be.
Over three months, we'll work together on six key areas:
*It is important to acknowledge EmotionMind Dynamic is a self empowerment tool, NOT a diagnostic tool, nor a self punishment tool, it . 
Who is EmotionMind Dynamic for?
You're feeling overwhelmed, unable to cope, and out of control. With a list of never-ending tasks that you just can't tick off, stress is taking over your life. The relentless pressure means it's hard to see the light at the end of the tunnel – making it hard to plan, maintain good routines, or even keep on top of your finances.
Sound familiar?
Then EmotionMind Dynamic is for you.
EmotionMind Dynamic for families
I've been the mum of an anxious child, so I understand the complex challenges that you, your child, and your family are going through.
Children and adolescents aren't equipped to express themselves in the way that adults are. When they're anxious, stressed or depressed, they'll often feel confused and frustrated – leading to angry outbursts, feelings of isolation, and conflict in the family.
For children, that might look like meltdowns, mood swings, refusing to eat, or resisting going to school; for adolescents, it often manifests as poor life choices, stress, overwhelm, and disruptive behaviours.
You feel powerless to help. You don't want your child to feel alone. You miss them being involved in family life. Honestly? You're exhausted, and you have no idea where to turn.
I've been there; which is why I created EmotionMind Dynamic for families.
Together, we'll explore the root cause of your child's emotional distress, the impact it's having on their wellbeing and mental health, and most importantly, the steps you can take – as a family – to make a permanent change for the better.
Start your family journey today.
What can you expect?
 When emotions or memories are painful, we tend to avoid them, bottle them up, or block them out completely. Our subconscious is a little bit like an overprotective parent, working hard to keep us from harm – but these painful emotions and memories rebel and seep out; most commonly through anxiety and depression, substance abuse, physical illness, and extreme overwhelm.
By the end of the programme, you'll understand how to:
Develop wellbeing from the inside out
Respond to situations appropriately
Communicate in a healthy and rational way
Free yourself from anxiety and depression
Achieve better sleep
Set small, achievable goals
Let go of guilt, shame and frustration
Put an end to intrusive thoughts
Rediscover your motivation
Set personal boundaries
Relax the pressure on yourself
Break out of your comfort zone
Focus on your very bright future
Start your transformative journey today.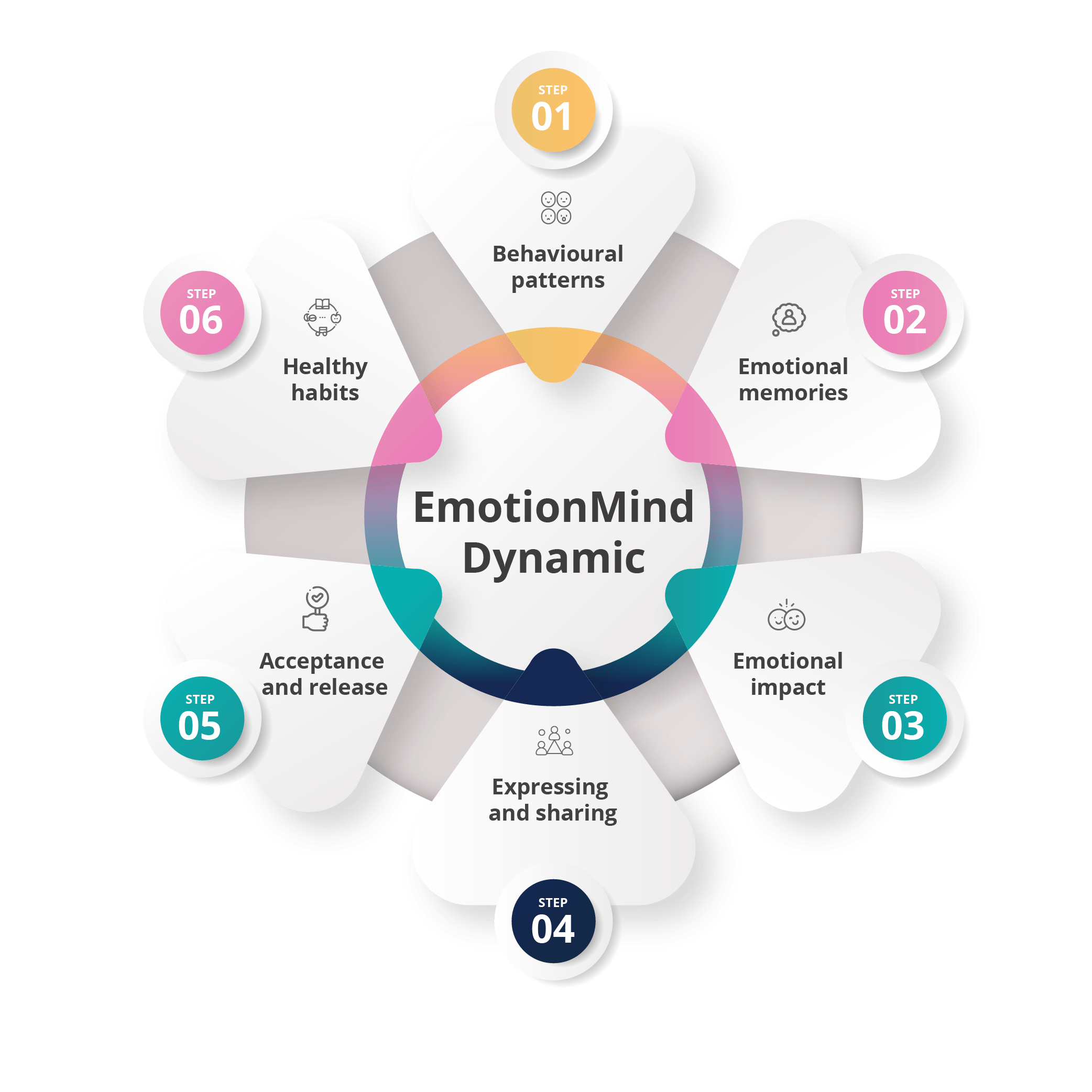 Self Knowledge is a Superpower®
"I have a new-found confidence and drive for self development"
What I enjoyed is getting a lot better. It's really hard to live day to day with this illness, in my case it is not being able to live like a human being.  My life goes on stop on bad days - I won't look after myself like washing, feeding myself, shopping, you get the gist of it. This program is well worth it. 10 out of 10
EmotionMind Dynamic helped me to manage my low mood days more effectively. Gave me confidence to challenge myself in stressful situations. Helped me to speak more openly about how I'm feeling to my wife. Gave me a more optimistic outlook rather than constant pessimism. On tough days I can now speak to my wife
I enjoyed the way there was never any word or opinions on how I should be or act put into my mind. It was all about getting me to make the changes to what I believed were problems, but with the support of someone who did not judge or criticise but assisted me to get out of the course what I wanted